51% of Europeans mobile owners will use a mobile payment app this year
According to an international study released by ING, 33% of Europeans have already used a mobile payment app. This is expected to increase to 51% over the next 12 months.
Mobile device owners in Turkey (56%) and Poland (43%) are leading the way in embracing mobile payments, showing a higher adoption rate than the US (42%).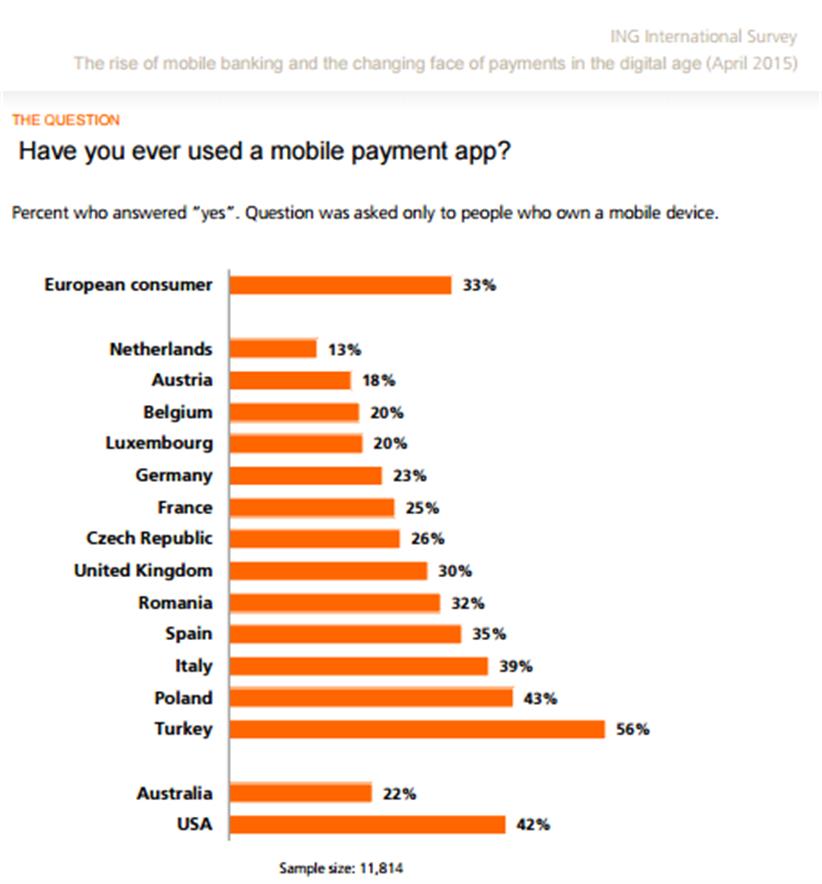 The survey also revealed:
50% used a mobile payment app because it's quicker, 42% used a mobile payment app because its easier and 33% have used one because they can use it in many different locations;
42% have not used a mobile app because they don't trust it, 41% said they haven't had the opportunity to use one and 10% don't understand mobile payments apps.
To download the complete report, click here.
Notes about the methodology : The ING International Survey of 14,829 people was conducted by Ipsos using internet-based polling. Fifteen countries were surveyed overall: Austria, Belgium, Czech Republic, France, Germany, Italy, Luxembourg, the Netherlands, Poland, Romania, Spain, Turkey and the United Kingdom (13 European nations) and respondents from the USA and Australia. Polling took place between 16 January and 2 February 2015.